The Car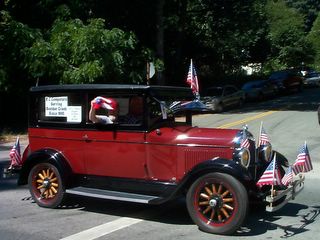 So Erick has the opportunity to get this car in trade for a guitar. It is really cool, but do we really want to invest the time and money in having an old car like this? It's from 1927, the same year our house was built. If you want to ask me what kind of car it is, etc, I don't know.
All I know is, his brother and the trumpet player from the band are both urging us to get the car. I'm saying that we already have an old house and we already have lots of plans to fix the house up. We don't need another project. I don't think you can have a car this old that isn't a project. Plus we'd have to park it outside.
But, wow, it's really cool. I have visions of us driving down the Alameda and going out to dinner downtown in it. It does run, apparently.
Oooooh, I just don't know!
It's one of those things that you hate to pass on because you don't know if you'll ever get a chance to do it again, and will you regret it if you don't do it? Or will you regret it worse if you do?